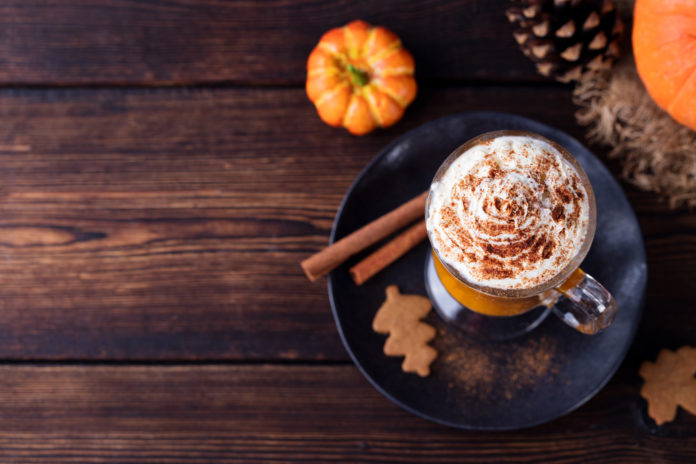 Though the return of last year's fall addition of Chile Mocha is uncertain, we can all rest our minds the infamous pumpkin spiced will carry-on. With the inspiration of Starbucks 10 new ways to customize your beverage, order up and enjoy these fall drinks this coming season!
Fall Drinks at Starbucks
1. Pumpkin Spice Latte
The inclusion of real pumpkin, cinnamon, ginger, and clove truly marks the PSL (Pumpkin Spice Latte) to be highly anticipated during the fall season!
2. Chai Latte
The spices of chai are sure to excite your taste buds this fall! Black tea infused with cinnamon, clove, and other warming spices is combined with steamed milk and topped with foam for the perfect balance of sweet and spicy.
3. Pumpkin Chai
Take the chai one step further and combine the flavors with pumpkin for one desirable fall drink!
4. Pumpkin Doubleshot on Ice
The Starbucks Doubleshot on Ice Beverage is made with rich, full-bodied espresso with a touch of milk and lightly sweetened. "Fallify" the drink by asking pumpkin spice sauce and sprinkle with cinnamon and nutmeg for added flavor.
5. Fall Iced Tea
Sip on the flavors of fall by simply ordering a Teavana Shaken Iced Black Tea and asking for a pump of pumpkin pie spice.
6. Pumpkin Flat White
The flavor is far from "flat" with the addition of pumpkin spice to a flat white!
7. Cinnamon Pumpkin Dolce Latte
Classic espresso is flavored with steamed milk and cinnamon dolce syrup in Starbuck's Cinnamon Dolce Latte. Add a pump of the pumpkin spice for a cozy, yet energizing fall drink!
8. Caramel Apple Spice
In addition to pumpkin spice, not much else shouts fall like caramel apple! Starbucks Caramel Apple Spice is crafted with freshly pressed apple juice and cinnamon syrup, all topped with whipped cream and a caramel drizzle.
9. Caramel Apple Pumpkin Spice
Get the best of both apple and pumpkin worlds by simply ask for the Caramel Apple Spice as described above, along with a pump of pumpkin spice!
10. Pumpkin Hot Chocolate
For all those lovers of chocolate, spice, and everything nice… Enjoy the decadent Starbucks Hot Chocolate with added pumpkin!
Starbucks Tips for Healthy Fall Drinks
Swap Out Milks
Simply swapping out whole or two percent milks with nonfat milk naturally cuts fat and calorie content while still obtaining beneficial protein and calcium content, or approximately 8 grams of protein and 30 at least 30 percent of total daily calcium needs if selecting nonfat dairy milk!
Limit Added Sugar
If the option exists to choose between sweetened versus unsweetened, opt for the lesser. Limit sugar addition by reducing syrup pumps, as they are essentially nothing more than empty calories. In fact, dismissing even one pump of syrup can trim off approximately 20 calories and five grams of sugar! If desired, offered sugar-free flavors include cinnamon dolce, vanilla, caramel, hazelnut, mocha, and peppermint.
Ask for Extra Foam
Asking for extra foam to top the beverage cuts down on calories, as the foam is lighter in volume and calories compared to milk straight from the carton.
Add Espresso
An espresso shot provides only five calories while adding caffeine and more volume, as adding espresso can naturally displace or reduce milk capacity and room for whipped cream.
Downsize
Especially considering the limited edition of these holiday drinks, they can certainly be enjoyed in their traditional, unmodified form. But instead of consuming the largest cup offered, downsize and truly relish the fall flavors without the guilt!